When it comes to warranties and product protection plans, although the ideas are similar, the coverage may vary. Learn more about the differences between warranties and product protection plans here, so you can walk away with a better understanding of which one you'd rather have on particular items you decide to purchase in the future.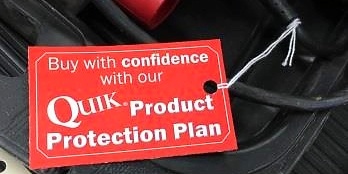 Before we pinpoint the difference between warranties and product protections, let's first define what they are and explain their similarities. A warranty often refers to new products from manufacturers such as electronics, jewelry, household items, or tools and can be purchased for a specified time and coverage. Product protection plans usually refer to similar coverage on pre-owned items.
Both product coverage options are offered as a low cost alternative to provide you with worry-free protection in the event that something happens to your item shortly after your purchase. They are also both transferrable between users in the event that you'd like to resell or give away the item as a gift.
So you may be thinking that they're pretty much the same and there is no real difference. Well, that's not exactly true. There are some major differences between these two options. Take a look at the main ways they differ below:
| | |
| --- | --- |
| Warranty | Product Protection Plan |
| Covers new products from manufacturers | Covers certain, pre-owned products that are not under warranty |
| Can last as long as 5 years | Usually up to 12 months |
| Ability to choose between multiple warranties (if an extended warranty is available) | Length of protection plan is usually set by product and non-negotiable |
| Repair or replaced with new item (if issue is listed within agreement) | Repair or replaced with another pre-owned item |
| Refund may be available with some warranties | In-store credit available |
Whether you're looking to purchase a laptop, engagement ring, or powered tools, having additional coverage for your important purchases will offer you peace of mind in the event that a covered product needs to be repaired, replaced, or a store credit issued. The cost is nominal compared to repairing or replacing items not generally covered.
Since most items in pawn shops are not covered under a manufacturer's warranty, buying from a pawn shop that offers a product protection plan like at the Quik Pawn Shop in Alabama is a great way to help you find a great deal on quality items, and to shop with confidence knowing you can bring your item back if something goes wrong.
Quik Pawn Shop is a family owned business with a customer first mentality. Customers have trusted them for nearly 40 years, and so can you! Have more questions about product coverage at pawn shops? We've got answers. Speak to our friendly team at 855-402-PAWN (7296) to get started or click here to find a Quik Pawn Shop near you.
Subscribe below to get email notifications with money savings tips, special offers, updates on upcoming Tent Sales and more.