Whether you're purchasing a brand new item from a retailer or something that's gently used, it's always reassuring knowing that an item you just purchased is protected through a warranty or other guarantee in the event that you need to return it in the future. No one wants to purchase a used laptop that starts to glitch two weeks later, and then come to find out there's nothing they can do about it.
So if you want to know if pawn shops offer warranties or a similar coverage on their merchandise, we'll explain what's usually allowed and what's not in more detail below.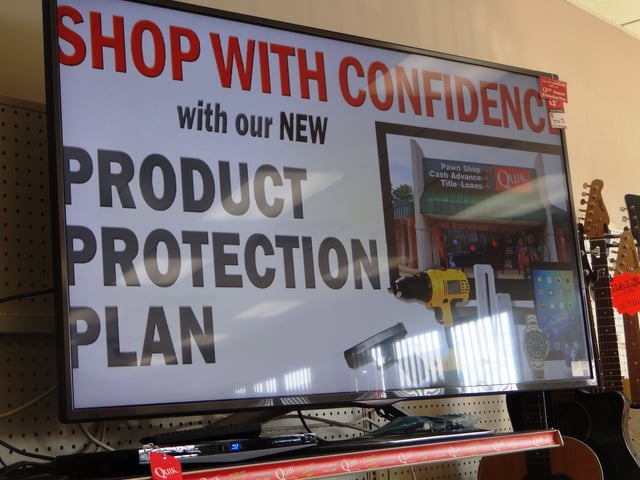 What is a warranty?
There are various forms of coverage offered on items purchased. The most common is called a warranty, which is applied to brand new products purchased by a retailer (either directly from the manufacturer or from a distributor representing the manufacturer).
Do pawn shops offer warranties?
The majority of items sold in today's modern pawn shops are usually no longer considered brand new and therefore are usually no longer covered by the original manufacturer's warranty. However, there are some items in pawn shops that usually do still have a warranty available. Notable among these items are new firearms and an array of electronic devices.
A growing number of pawn shops do however offer one or both of the common forms of product reliability coverage. While most everyone is familiar with warranty on brand new products, fewer are aware that the same or similar coverage is available to them on many high-quality used items sold in pawn shops in the form of a product protection plan.
What is a product protection plan?
Product protection plans offer protection similar to (and sometimes better than) the same item's original warranty and are typically nominal in price. The coverage for these plans vary among stores and is sometimes dependent on the item purchased.
These plans are ideal for shoppers who appreciate the great savings available in pawn shops and who are looking to fill the 'confidence gap' left by the expiration of the manufacturer's warranty.
What's included in a product protection plan?
To get a thorough understanding of what may be included in the protection plan at the pawn shop you visit, be sure to ask the following questions:
How long will the protection last? Typically a pawn shop will offer a 6-12 month of worry-free protection.
What happens if the items breaks, or stops working? The protection should cover a repair (if feasible) or an in-store replacement if a similar item is available. If not, an in-store credit should be offered
Is the coverage transferable? If you intend to gift your purchase or re-sell it before the plan expires, there are some plans that can be transferred to a new owner.
How much will the coverage cost? The cost is a percentage of the purchased price, usually around 10%. For example, if you purchase an item for $100, you could usually purchase additional protection for only $10 more.
For many buyers, these plans are the final piece of the price-value-coverage formula that make pawn shops an overall superior option to that of buying the same item brand new in other retail stores for full price. However, every pawn shop may not have a product coverage option available, so be sure to ask first before you buy.
If you are attracted to the values often found in pawn shops, but enjoy the comfort of knowing your investment is protected, the value added by reliability coverage may provide you with the confidence you need when making your purchase.
Therefore, go forth, and shop your local pawn shop with added confidence! That is, of course, assuming they offer warranties, and a good product protection plan.
Quik Pawn Shop is a family owned business in Alabama with a customer-first mentality. Customers have trusted Quik Pawn for nearly 40 years, and so can you! Speak to the friendly team at 855-402-PAWN (7296) to get started or click here to find a Quik Pawn Shop near you!
Related articles: What does a pawn shop buy? | 5 reasons pawn shops are a popular alternative for holiday shopping
Subscribe below to get email notifications with money savings tips, special offers, updates on upcoming Tent Sales and more!