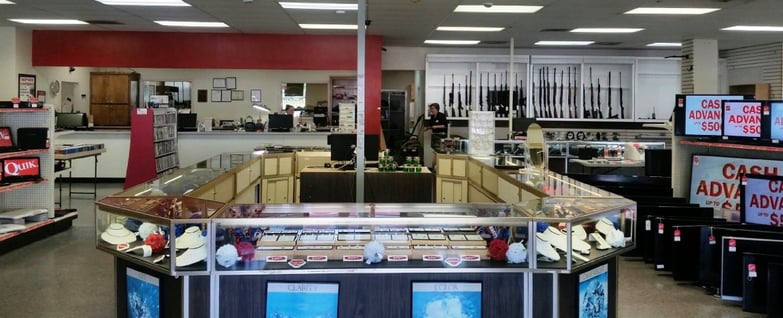 So you're ready to take the guesswork out of the pawn or selling process? Tired of bringing items in to a pawn shop and finding out they're not even worth trading in for cash? Whether you need to scrape up a quick $50 or a few hundred, hold tight and we'll teach you what to bring and what to look for when you do pawn loans or sell your items outright to your local pawn shop.
Look around. What do you see? In today's economy, almost all of us can look around while we're in the comfort of our favorite chair at home and spot at least one item that we no longer need that's worth pawning or selling outright. Pawn shops are a great place to start when you're looking to trade your items in and get cash quickly. Not only does it save time and energy in comparison to selling your items online, but it's also a great way to get rid of multiple items that have been cluttering your home all at once.
So if you're not sure if you have items you can bring to a pawn shop, here are a few tips to help you narrow down your list.
Pay attention to what's popular/in high demand:
Pawn shops usually always buy and sell brand named items and popular merchandise currently in demand. Such items include many electronics like new Apple products or game consoles or you may try bringing in other items that are usually popular in pawn shops like jewelry, firearms, or tools to name a few. By keeping your eyes and ears in tune with what's currently selling in the market, you will be one step ahead of finding the best items to trade in for cash at a pawn shop.

Browse through their current inventory:
It's important to keep in mind that pawn shops are in the business to offer quality merchandise for great prices. However, since some pawn shops only specialize in guns while others offer a wide variety of merchandise, a good first step is to browse through the current inventory of a pawn shop near you to see what they've already accepted and are currently selling.
Think of items that bring in the most money:
Although you should keep your thinking wide open, most pawn shops find preference in the following general categories below. These items are usually always good to bring to pawn shops because they hold a strong value similar to when they were new (low depreciation) or because they are plentiful enough and in sufficient demand that they attract a consistent flow of customers.
Fine Jewelry – Not sure if it's real? Most pawn shops can test it for you!

Solid gold and silver
Diamond and precious gemstone jewelry
Broken/scrap gold

Electronics

Laptops and computers
TVs
Game consoles
Entertainment systems

Sporting equipment

Firearms
Fishing poles
Golf clubs

Musical Instruments
Appliances

Microwaves
Heating and air conditioners
Vacuums

Motor Vehicles
Tools

Lawn mowers and lawn equipment
Paint sprayers
Power tools
Call ahead before your visit:
While the above list of general categories can serve as a reliable guide to get you started, the sky is the limit as to what a pawn shop may buy. So if you're still not sure if a pawn shop will buy "that", then you may opt to call the store before your visit to speak with a pawnbroker firsthand. While they can't always give you an estimate over the phone, you can still find out if your item is even selling in their store or if they are willing to accept the item you have available to offer.
Quik Pawn Shop is an Alabama owned and operated company that's been serving the region for nearly 40 years. At Quik Pawn, we want our customers, neighbors and friends to know that they can get the cash when they need it to help resolve their short-term financial needs. If you have more questions about pawning or selling your items or if you're ready to get started, give us a call at 1-855-402-PAWN (7296) or click here to find a Quik Pawn Shop near you.
Subscribe below to get email notifications with money savings tips, special offers, updates on upcoming Tent Sales and more!