If you have broken or unwanted gold lying around your home, you may find that trading it in for cash at a pawn shop is one of the fastest ways to get the cash you need, when you need it. But is there something you can be doing to help you get the most money for your gold whether you're looking for a pawn loan or to sell it outright?
Find out what types of gold sell at a pawn shop and what you'll need to bring to help you get the most money and learn how pawnbrokers determine how much you'll be offered in this quick reference guide below.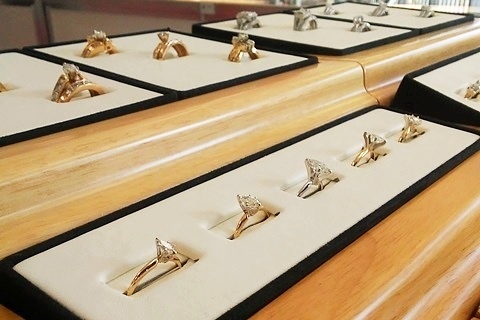 Understanding the basics.
Gold's value is determined by the current market value. Gold consists of 24 parts or karats (k). The most common gold is 10k (.417) and 14k (.585).
· 10K (.417) is 10 parts gold and 14 parts other metals
· 14k (.585) is 14 parts gold and 10 parts other metals.
To determine if your gold is authentic, you can usually find that it is marked with the karat weight. If you do not see the karat weight, you may also bring it in to a pawn shop for an evaluation.
Getting your gold evaluated.
In order to help you get paid the most money for gold at a pawn shop, you will need to bring in your items for a quick inspection and evaluation process. The pawnbroker will perform multiple tests to determine the karat weight of your gold and true value. The higher the karat weight and the heavier the gold, the more you will get for your gold.
What pieces are accepted?
Although this may vary from store to store, generally speaking most pawn shops usually accept yellow gold and white gold watches, earrings, necklaces, and rings. They usually also accept silver including silver flatware, platinum, coins, damaged or broken gold, collectables, keepsakes, and other fine jewelry, etc.
What pieces are worth the most money?
Some gold pieces may be in a condition to where it can be resold. If your jewelry can be resold, there is a chance that you will be offered more money for your items. Also if your jewelry contains natural stones such as diamonds, rubies, sapphires, etc., you may be offered more money for the value of those stones. Gold coins are usually 22 to 24 karat gold and will usually get you the closest amount to the market value. Some gold coins may also hold extra value as collector's items.
Hopefully this article gives you some idea for the types of pieces you can bring in to get the most money for your gold. As you can see, knowing what to bring is half the battle. And now that you've got that covered, you can be well on your way to getting the most bang for your buck whether you're looking to pawn or sell your gold outright.
For more tips on pawning or selling jewelry, you may also like How to Get More Bucks for Your Stuff: Jewelry Edition.
Quik Pawn Shop is a family owned business with a customer first mentality. Customers have trusted them for nearly 40 years, and so can you! Have more questions? We've got answers. Speak to our friendly team at 855-402-PAWN (7296) to get started or click here to find a Quik Pawn Shop near you.
Subscribe below to get email notifications with money savings tips, special offers, updates on upcoming Tent Sales and more.