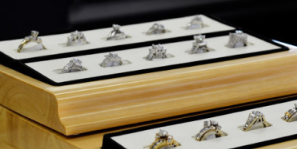 Unexpected expenses caught you off guard? I'm sure many of us have experienced a time in our lives when we needed to scrap up some extra cash – and quick! The good news is, there are several ways to earn some extra cash including pawns, loans, or selling your stuff. In this article, we'll show you how getting big bucks for your jewelry can be as easy as 1-2-3.

If you're thinking about pawning or selling your jewelry, just use this simple checklist below as a guideline before deciding what you'll bring so you can get the most bucks for your stuff.
What NOT to Bring:
If you're not sure which pieces you should bring in, a good starting point is first recognizing the types of jewelry that most pawn shops don't buy, pawn, or sell.
Costume Jewelry (base metals, glass, or plastic)

Gold plated silver (Vermeil)
Electroplated jewelry
Gold filled jewelry
Loose stones
If you can't tell whether or not your jewelry fits into the categories above, don't worry. Just bring in your items for a quick jewelry evaluation, and a good pawnbroker will be glad to perform a few quick tests to determine the value of your item.
What You SHOULD Bring:
Pawn shops carry a wide selection of fine jewelry and get new inventory daily. Their jewelry includes precious metals and gems, watches, earrings, necklaces, rings and more for both men and women. If you're looking to pawn or sell your jewelry, here's a quick guide to the types of pieces to bring in order to get top dollar for your items:
Gold/ White Gold
Platinum
Silver
Diamond jewelry
Damaged or broken gold (sell only)
Coins
Silver flatware
Most pawn shops also accept collectibles, keepsakes, and even fine jewelry or gold traditionally used as investments.
Quik Pawn Shop is an Alabama owned and operated company that's been serving the region for nearly 40 years. At Quik Pawn Shop, we want our customers, neighbors and friends to know that they can get the cash when they need it to help resolve their short-term financial needs. If you have more questions about pawning or selling your items or if you're ready to get started, give us a call at 1-855-402-PAWN (7296) or click here to find a Quik Pawn Shop near you.
Subscribe below to get email notifications with money saving tips, special offers, updates on upcoming Tent Sales and more!