It's tax season! Oh, yeah. The time of year when we get to say hello to W2s, tax preparers, and our beloved tax refund checks. The average refund check last year was $2,782 according to reports from the IRS. For many Americans, a lump sum of funds like that could mean a nice vacation, a new TV, paying down debt – you name it.
So if you're excited about getting a refund check this year and want to know when you can expect your income tax check, here are the estimated dates from the filing schedule below and tools to help you better understand what to expect regardless of your unique situation.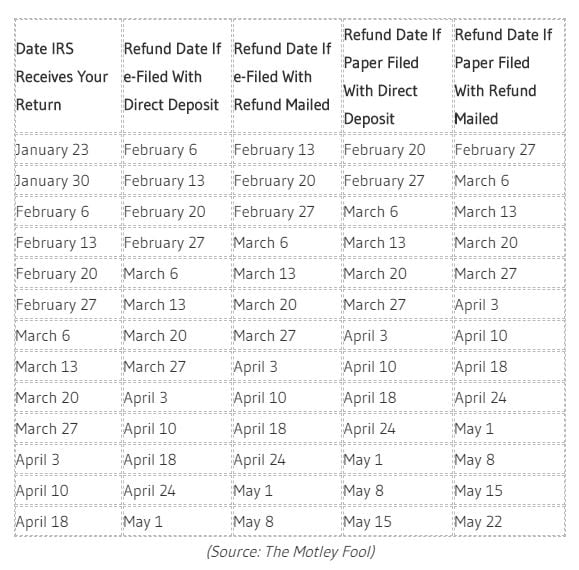 Claiming any of these credits?
A new law requires the IRS to hold refunds claiming the Earned Income Tax Credit (EITC) and the Additional Child Tax Credit (ACTC) until February 15. Taxpayers who've claimed either credit and have filed prior to this date may not have access to their refunds until the week of February 27.
Need more accurate tracking?
You may also track your refunds on the go using IRS2GO app or visiting the irs.gov and clicking on their "Where's My Refund" feature for a more customized tracking method. You'll need your social security number, filing status, and exact amount of the refund to view your results. If you have any difficulty understanding when you may be able to expect your tax check, it's best to contact the IRS directly and speak to a live representative.
Yes, tax season gives many of us an extra reason to smile, especially if a tax refund check is on the way. If you're having your check mailed to you and will need a place to cash your check free in Alabama -- look to Quik Pawn Shop! Quik Pawn offers free tax check cashing with an in-store purchase at all of their locations throughout Alabama in Montgomery, Birmingham, Mobile, Tuscaloosa and surrounding areas.
Quik Pawn offers a wide selection of merchandise including bargains on the latest diamond and gold jewelry, electronics, TVs, tools, musical instruments, home appliances, ATVs, gaming consoles, and much more! They also offer a product protection plan for up to 12 months of worry-free protection on many items in store. So if you want to save on check cashing fees and planning to do a little shopping on any of these items anyway, head on in to a Quik Pawn Shop near you.
Quik Pawn Shop is a family owned business in Alabama with a customer-first mentality. Customers have trusted Quik Pawn for nearly 40 years, and so can you! If you have questions about their items or looking for something in particular, speak to the friendly team at 855-402-PAWN (7296) to get started or click here to be notified if we have the item in store!